Hey Guys,
March 16 - a red marked date for every flyfisher in germany - troutseason in most parts of germany starts. At the latest two days before your hand starts shakening, sometimes a nervous twitching - you feel like a junkie who needs his periodical dose of flyfishing. Years ago you got infected - and it took only a few moments to relized that you were lost in troutfishing.
Wedding anniversary? Your birthday? Saving the planet? Doesn´t matter at all when it´s on that specific, red marked date - March 16.... your
personal holy grail...
I carefully selected the destination for my first shot this year - a medium size river where I have never been before, harsh currents, elevated waterlevels and... access to a huge reservoir. Considering the last point, I can simply overview and -hear that this part of the river looks quite urbanized and if you have read the entire article you´ll know why!
Access to a lake or reservoir is the keyword which is intrinsically tied to "migratory salmonides" - the term itself sounds sexy as hell! MIGRATORY Trout has that delicious tinched undertone of Seatrout or even Steelhead...
and it´s a matter of fact that these fishes behave quite alike. In my eyes it´s quite exaggerated to call these fishes Steelheads aswell, because in fact they are not searunning - but lakerunning.
Great Lakes Rainbows aka "Great Lake Steelhead" is the keyword - it´s the same phenomena: the fishes are lakerunners who spawn in the rivers:
"Migratory Rainbowtrouts or Salmonides"
Gray sky, snow and rain... definatly no weather for "Sissy-fishing" but I really don´t care about it since I saw the river from the street upon - I feel like a unleashed bloodhound, ready to blow. Christian, Paulo and I are ready to celebrate the first shot of the year....
A electricity engine regulates the waterlevels, what finally means that the waterlevel can raise and fall 100cm within one single hour! So we equiped ourselfe for every condition - from lightweight singlehand rods (weight 3) to light 7weight double hand rods with diffrent shootingheads - expect the unexpected!
Items on this picture from left to right:
MULTi 7120-4|OPTi Speedrunner|OPTI Adapted DH Intermediat 7/8
LTS X1 590-4 Packlight|OPTi Dryfly|OPTiStillwater WF5F
MULTi 696-4|MULTi 3/6 Prototypereel|OPTiStillwater WF6F
MULTi 590-4|OPTi Creek|Master Wet Tip Express 150 grains
lateron OPTi Creek 388-4|Evotec G3 FW|OPTi Creek WF3F
The fishing itself legitimates the amount of equipment, from classical upstream nymphfishing to classical Steelhead or Salmonswinging...but have a look at the pictures.
I really thought that some fish are still quite exhausted after the reproduction-period but hell no! These fishes really ran their tails off!
Massive attacks on, rodcracking hookups, backingruns... fishporn at it´s finest!
First thrill!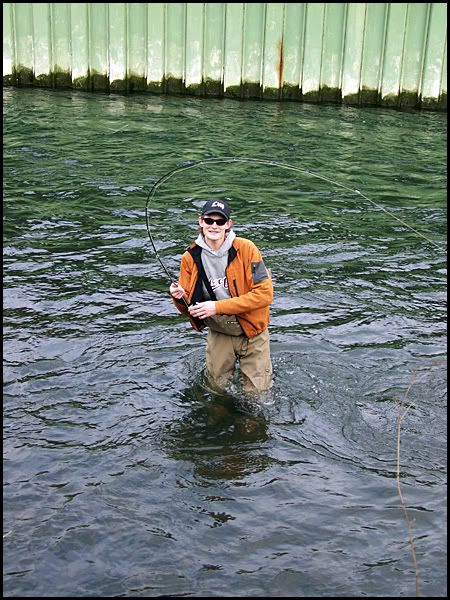 Damnit... almost forgot how good it feels: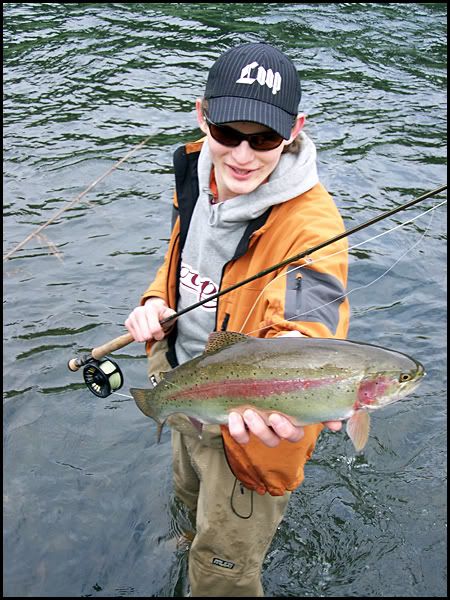 Here an exclusive shoot of the latest MULTi Reel Series - Still a prototype, the endversion will look alike except that it will be a bit more narrow...tried to hold a bigger fish in strong current after it has ripped of 20 Meters of backing (I´ll soon post the video) - what a blast...unfortunatly lost that fish that has cut a deep wound in my hand with tecbraid backing: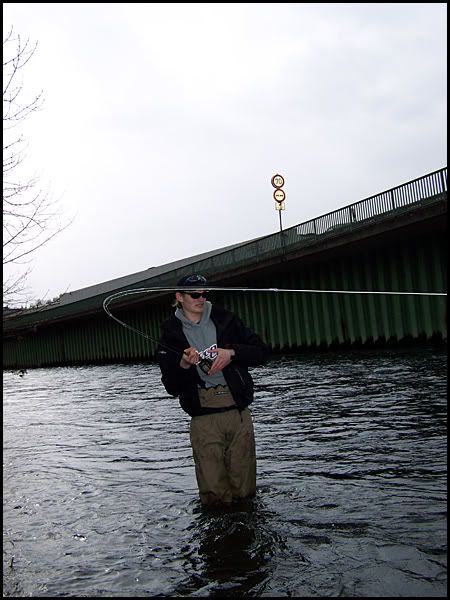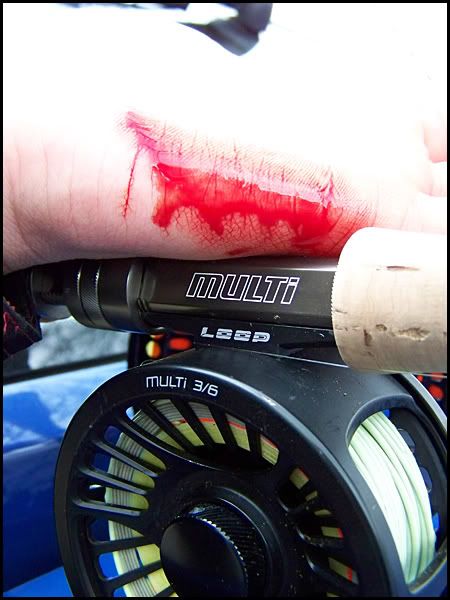 Smells fishy - perfect place to unleash the lightweight DH Rod: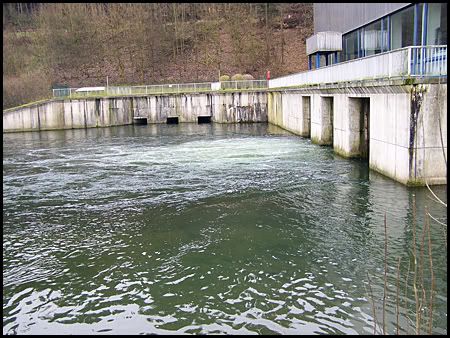 BIG Bang: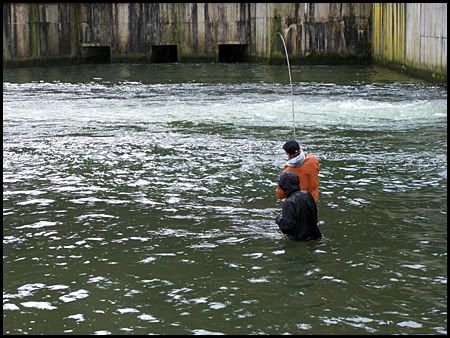 A better one... it takes a while in the harsh current of the engine:
Damnit, a beauty: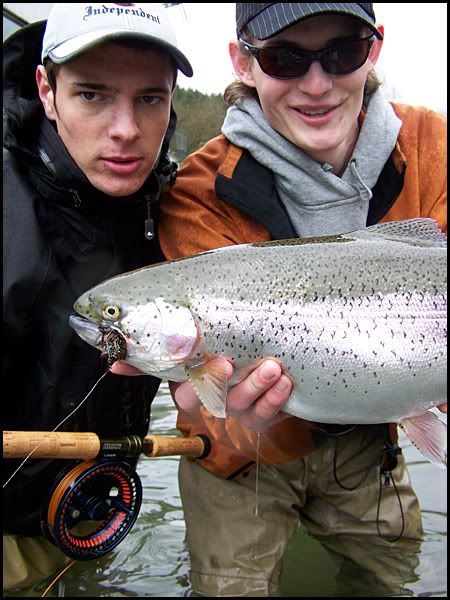 could a seasion start better than this? 6 pounds - silverblank mirgatory rainbow! Fly: Crystal Conehead Woolly Bugger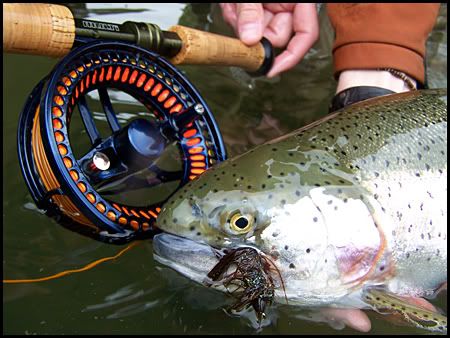 We went on: I hooked another Fish from same size...jumped few time for the video and hooked off then...shit happens, but I cant complaine
Meanwhile Christian hooked up with a nice 50cm Brownie: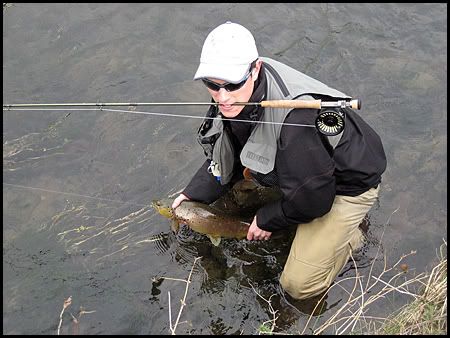 Paulo with his first trout of this day:
Christian again: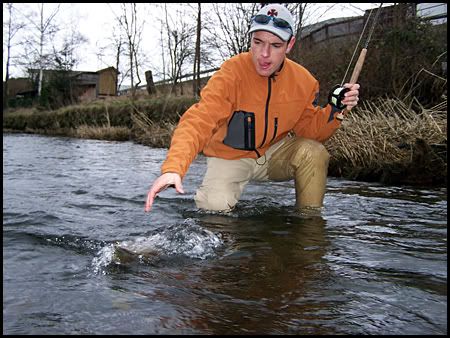 another nice rainbow:
fine 42 brownie: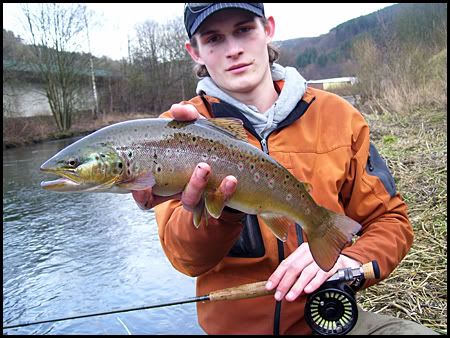 LTS with light nymphs kicks ass aswell: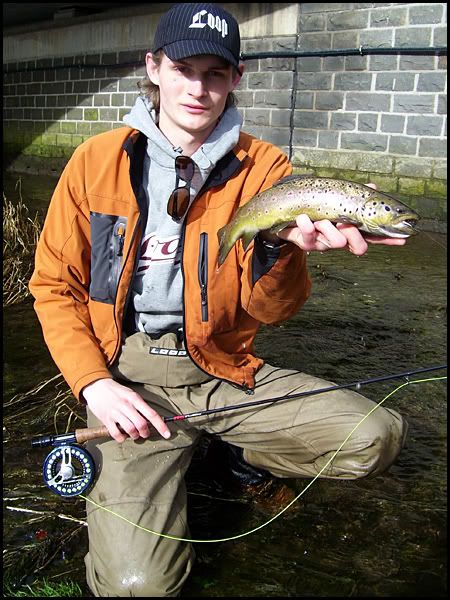 Prince nymph prevails:
ripping off the line: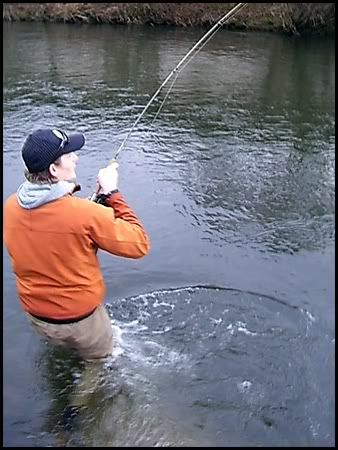 another fine Brownie 43cm
get bend again:
damnit...each fish a beauty: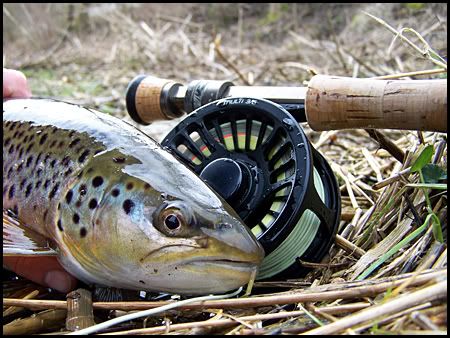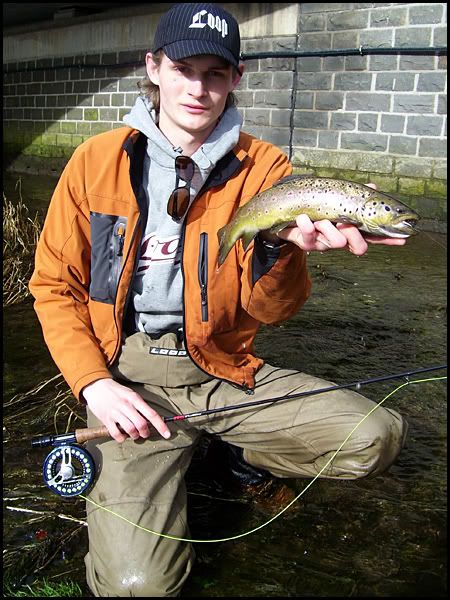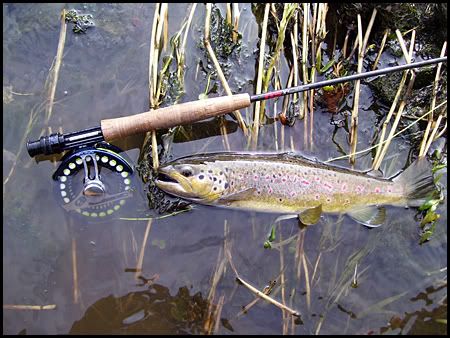 another price rainbow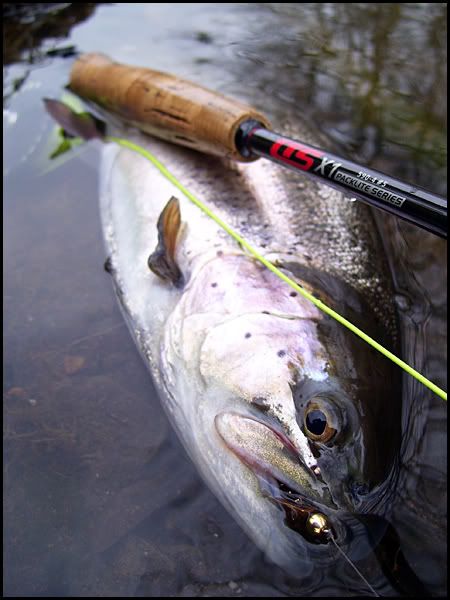 late that day: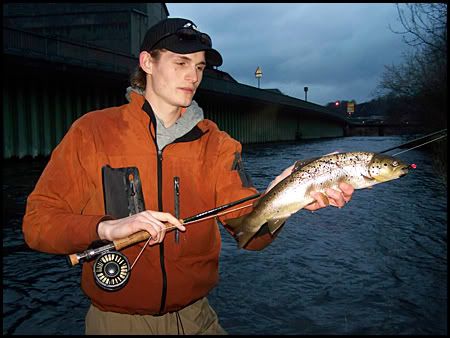 This are a few impressions of my first day of the season - I´m looking forward to see yours here.
Cheers and tight lines,
Stephan Dombaj